Suhaildev Wildlife Sanctuary
Suhaildev Wild Life Sanctuary, in the district of Balrampur and Shravasti, close to the Indo-Nepal border, is spread over an area of 452 sq.kms. With a buffer zone of 220 sq.kms the Suhaildev Wild Life Sanctuary was established in 1988. Situated on the International Border ,this sanctuary is a strip of land , approximately, 120kms long from the east to west and 6-8 kms wide. In the north are the jungles of Nepal and together they form a situational unit. The wild life sanctuary encompasses Tulsipur, Barhawa, Bankatwa, Eastern Suhailwa and Western Suhailwa Range and the Buffer Zone covers Bhaabar and Rampur Range. These natural forests have a vast natural wealth and bio-diversity.
The Suhaildev Wild Life Sanctuary is situated near an important Buddhist circuit and a number of foreign Buddhist tourists visit Shravasti, an important Buddhist holy place on the southern border of the sanctuary. It is from Shravasti that the Buddhist tourists move on to the other holy places on the circuit ,viz, Kapilvastu, Lumbini and Kushinagar.
Before the implementation of the Zamindari Abolition Act 1952, most of the forest land of the sanctuary was the personal property of the Maharaja of Balrampur and the area was known as Balrampur Estate. Later after the abolition of Zamindari, the forests were assimilated in to the state of U.P.
Another unique feature of the sanctuary is the presence of the Tharu Tribe. The Tharu tribe having mongoloid features have been residents of this area since long and are wholly dependent on the forest land for their survival and livelihood.
Vegetation Primarily Sheesham, Khair, etc are commonly found. Jaamun Trees. Jigna, Haldu, Faldu plants etc can also be seen. Medicinal plants also have their fair share in the forest area.
Wild Animals Tigers, Leopard, Cheetal, Bear, Wolfe, Hare, Jackal, Wild Boar, Sambar, Mankey, Langoor, Python ,Otters etc can be commonly sighted. A number of birds like Black Partridge, Quails, Peacocks, Kingfishers, Bulbuls, Mynahs, Eagles, Nightingales, Cuckoo, and Owls etc also inhabit the forest area.
Large water bodies /reservoirs like Chittorgarh, Kohargaddi, Bhagwanpur, Girgitha, Khairmaan and Raziataal dot the sanctuary area. These water-bodies attract a large number of local and migratory birds. Of all the water bodies in the sanctuary, Chittorgarh, Bhagwanpur and Raziataal offer a more scenic and enthralling experience.
Contact Details
Address: Suhaildev Wildlife Sanctuary Sharavasti.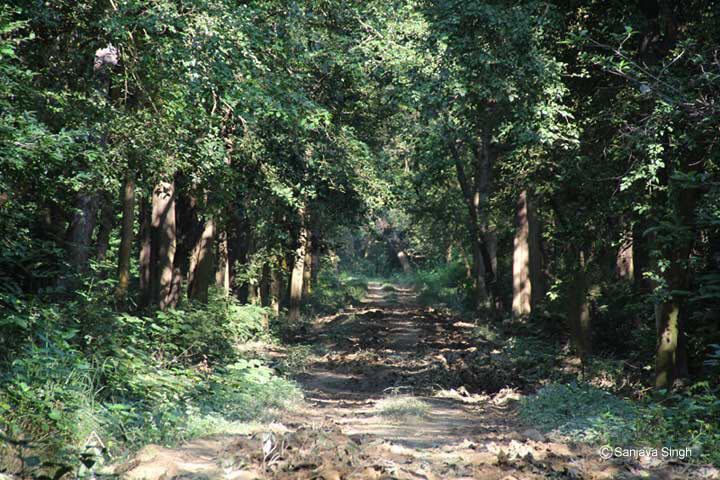 How to Reach
By Road
Shravasti is well connected to the rest of Uttar Pradesh by roadways. The nearest mega terminus is at Gonda that is 50 kilometers from the downtown Shravasti. Gonda in turn is well connected by bus to cities like Lucknow, Bareilly, Kanpur, Allahabad, Agra and Mathura. Both Uttar Pradesh State Road Transport Corporation as well as Private players operates these buses